Today I'm going to work on cutting out quilts. The first is my Nancy Drew quilt. I've pressed the fat quarters and admired them over the last few weeks in a stack on my cutting table, but now it's time to slice them up. The pattern I've chosen uses a layer cake (10" square stack of coordinated fabric), but since I bought the fat quarter bundle, I've got more than enough. If my calculations are correct, I have enough for 2 layer cakes, plus an 8"x22" strip. I'm hoping to make 2 quilts out of the 10" squares, and I'll figure out the strips later. The pattern I've chosen is called
Grandma's Windows
. The only problem I have so far is that the designer takes the easy way out and says "due to the hundreds of different techniques to back a quilt, the fabric needed for backing is not included in the materials list". A bit annoying when trying to plan for fabric purchases online. I'm probably going to just use muslin or a solid since the coordinating fabrics have become so difficult to find.
The second quilt I'm going to cut out, at least partially, is the
Seville
from Cluck Cluck Sew. Cluck Cluck Sew is a recent find for me. I've been intentionally out of the loop on fabrics and patterns for a few months, and the colors on their sample quilts sucked me in. Quilts should be happy and bright, and these show off that range. I'm using fabrics from the Happy Go Lucky collection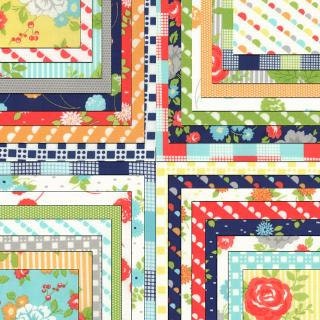 for this bright creation. I have a tendency to lean towards anything with aqua in it, and this collection is no different. This time though, I'm more drawn to the navy and orange contrast and letting the aqua peek out in the prints and one background color. It's a difficult task for me to not jump on the aqua, so lets hope this goes well.
My son will be attending the Boy Scout Jamboree next week in West Virginia, so it will be just the girls and me. With lots more rain forecast (did I move to the tropics?), I'm going to also cut out the fabric for miniature quilts the girls have chosen. I'm going to have them working on those during the rainy days ahead.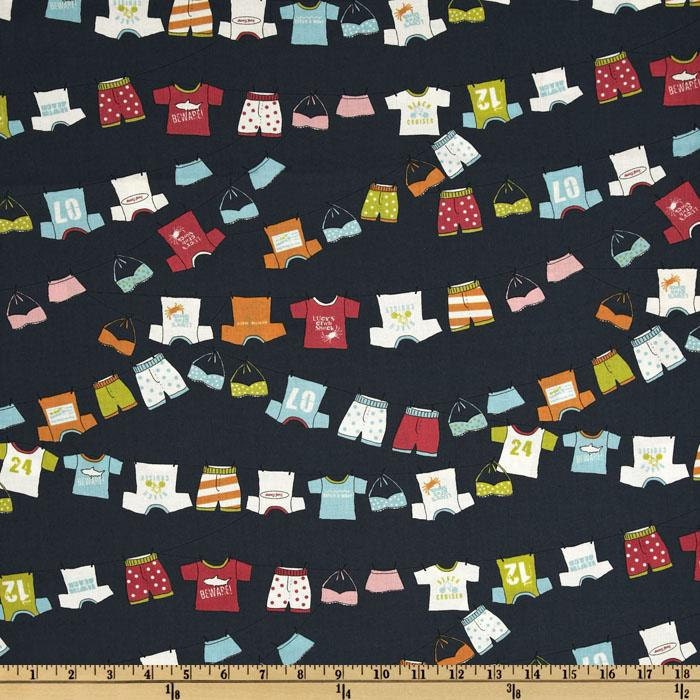 I have dreams of 3 more quilts as well. The fabric is ordered for a beach quilt. It was so hard to keep our beach mats anchored down last week, and it would be easier to tote one big quilt than 5 mats. The kids are always in the water or building castles, so there's usually just me & hubs needing a spot to stretch out. I'd forgotten how windy it can be along the shore. I'm making this quilt specifically for the beach. We're using the Lucy's Crab Shack collection, also from Moda (see a trend?) and of course, I discovered it ages after it was released. Thank goodness for etsy. I've found the layer cake I need for this
pattern
and the yardage I want for the back. I'm really splurging on the backing for this one--I love this print and don't want a light colored back that might get stained. The whole collection has a beachy feel and will be great for piling on for a picnic. I'm also going to make either grommets or tabs at the corners so that I can use tent stakes to anchor it down. I've considered making a grommet hole for my beach umbrella as well. I'll wait until the quilt is done to decide. If it weren't so cost-prohibitive, I would have loved to use the coated fabrics from the collection for the backing, but at over $12/yard and needing 4+ yards.....c'est la vie!
I've downloaded 2 more PDF patterns from Cluck Cluck Sew to use to clear out stashed fabrics, and I broke down and bought a new book yesterday at the quilt shop in Orangeburg. The book focuses on Civil War Reproduction prints, but I could see past those fabrics into my stash. I'm on a mission to get several quilts cut out all at once, and then sew as I can. My quilting machine goes to the shop in the next week, so I'm back to using my trusty Singer I've had since I was 14.